Diamond b*llocks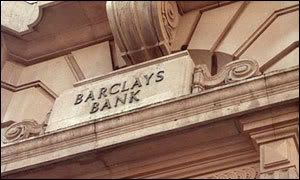 Well, looks like I was wildly, totally, abjectly wrong.
Barclays does indeed
want to provide some fine limey gilding on the Atlantic Yards Gehry poop. I had forgotten, of course, that Barclays' president, Bob Diamond, is an American, and that the asset management arm is headquartered in San Francisco.
I still say it's a fairly strange fit for Barclays, and note that the Nets fetched a third less than the mighty New York Mets raised from Citi, and that the Yankees are much too posh to put their stadium name on the block. Still, given the aversion of Bruce "Mad Ugly Building Inflicta" Ratner to spending his own money on his projects the deal is unavoidable. I'll just note here what I noted at
Mr. Oder's place
- let's see what else Ratner has to mortgage to get his bauble built, and what shape that leaves the hapless Nets in.
For those of you wondering whether I am going to dine heartily on a feast of my own poor predictions, I must beg to disappoint you - owing to a forthcoming tooth extraction I must be fasting. Yeah, it's been that kind of day. On the plus side, I have moved this blog to a special domain of my own choosing. It's almost as if a grown-up's in charge. Except for the new, er, logo, which is a placeholder for something more sophisticated.
Below, bonus footage screencapped from
NY1
of some hack trolling for screen time in front of a banner fashioned from Barclays logos.